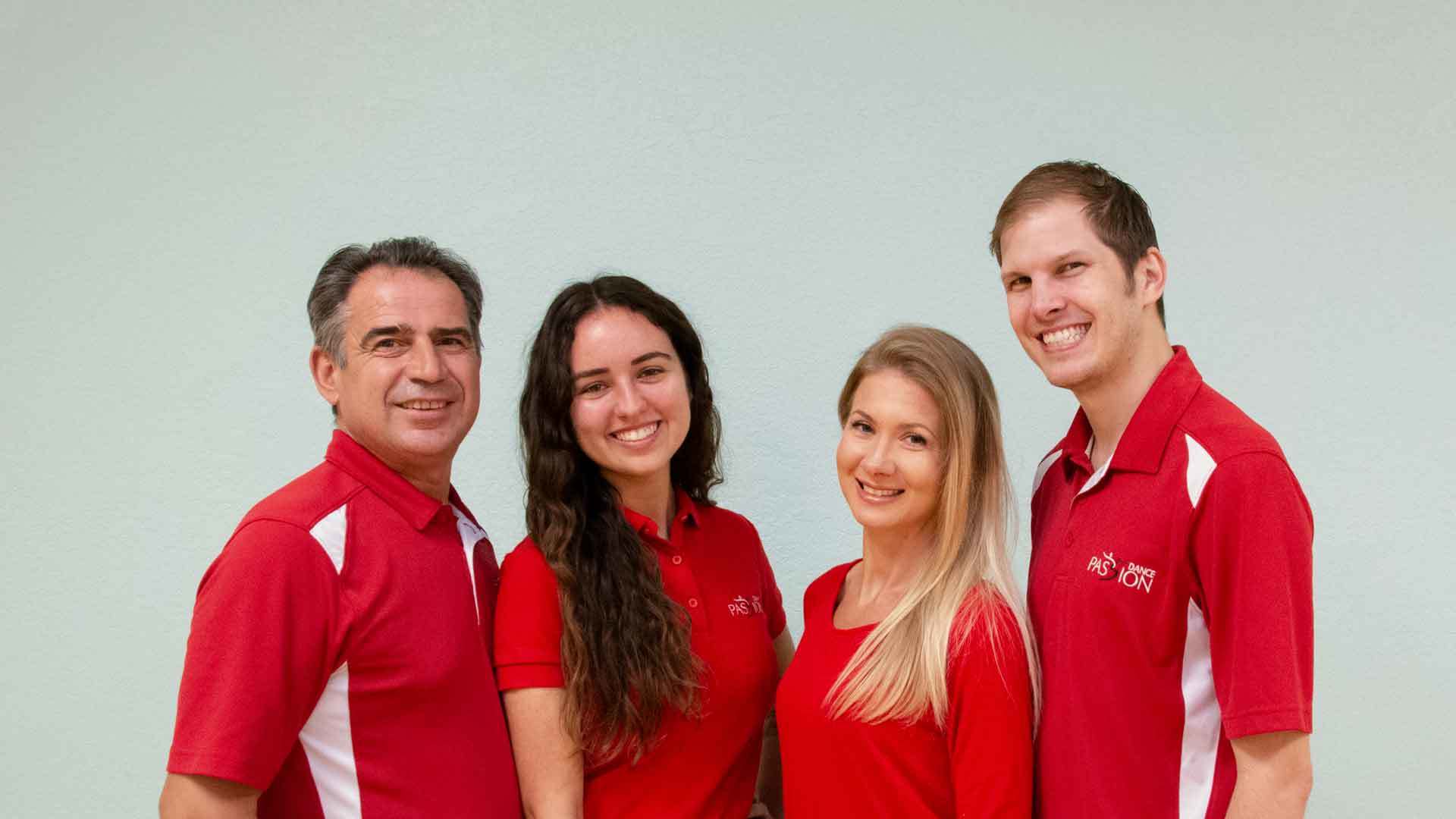 More than a Dance Studio, this is your Dance Home in St. Petersburg, FL
Learn to Dance With Happy People in A Happy Place
     Dance Passion is a Ballroom Studio run by Bulgarian Dancer Ivan Grigorov and his team of certified pros.
They run Group and Private Lessons in Latin and Ballroom in a beautiful custom-created Studio on Central Avenue in St. Petersburg with the motto 'There are shortcuts to happiness and dancing with passion is one of them.'
     Dance Passion aims to bring all forms of social dancing to everyone in a supportive and nurturing atmosphere to play and learn the art of dance. The quality of teaching is excellent for complete beginners who are supported by instant access to live training videos between classes. Dance Passion strives to create the best environment for learning to dance. It is the only Studio in the County offering free weekly live tutorials with plenty of demonstrations to prolong the effects of the class, thereby empowering students to control their progress.  
     Whether you've never danced before and would like to learn, have thought about it, or are afraid to try, or learned a few times and need a refresher, we can help! From the classic and dashing Foxtrot to the energetic Jitterbug, Dance Passion is where you can have fun while learning to dance. In addition to group dance classes and private lessons, we have weekly dance practice parties.
     It all starts with a free Trial Lesson! Call us today to schedule your initial trial lesson (solo or with a partner) or register: For a Trial Lesson Please Click Here
[velocity type="youtube" id="PjsyKsOYI9U" options="showinfo=0" img="https://www.dancepassionfl.com/wp-content/uploads/2019/05/Teresa-Zeoli-Testimonial.jpg" alt="Teresa Zeoli Testimonial" color="#000000" bkg_color="#FFFFFF"]
[velocity type="youtube" id="DiOljT2lx7E" options="showinfo=0" img="https://www.dancepassionfl.com/wp-content/uploads/2019/05/Sharon-Bricker-Testimonial.jpg" alt="Sharon Bricker Testimonial" width="562" height="315" color="#000000" bkg_color="#FFFFFF"]
Looking for a place to learn to dance? It is HERE! Jot down the address! Dance Passion is where you will find Ivan and his team of talented professionals, Monika and Kyle; who GREET you with sincere warmth and friendliness and TEACH you their LOVE for the ART of DANCE. After a lesson, we, the students, leave with a feeling of accomplishment, enjoyment and eager to return to learn the next dance! Now, I want to perfect my STYLE ! Look out, Ginger!
Dance Passion Studio is not only the place for dancing. It's a state of mind and soul because the owner/ instructor Ivan and instructor Thibault manage to give you peace, joy, fun and very professional dancing skills during the class. You always look forward to next class to come, to every Friday's party and Monday's to Friday's group classes. There are multiple programs for kids, couples and seniors waiting for you. Surprise your spouse, friend or child with passionate dancing you can learn at Dance Passion! You will find peace inside you and will forget about life outside with Dance Passion I can guarantee you that, it's my own experience. You are never too young or too old to dance!
"Great dancers are not great because of their technique, they are great because of their passion"
FREE Ballroom Dance Lesson
To make sure you enjoy the way we teach and that you  like our studio, we offer one FREE Private Ballroom Dance Lesson. This lesson can be taken Monday to Friday from 1:00pm to 9:00pm. The trial lesson is 30 min long. Every ballroom lesson, group class and dance party after that will be 40 min.
To reserve your spot, please send us your request through our FREE Dance Lessons Page.