Sign Up
For A FREE Trial Private Dancing Lesson!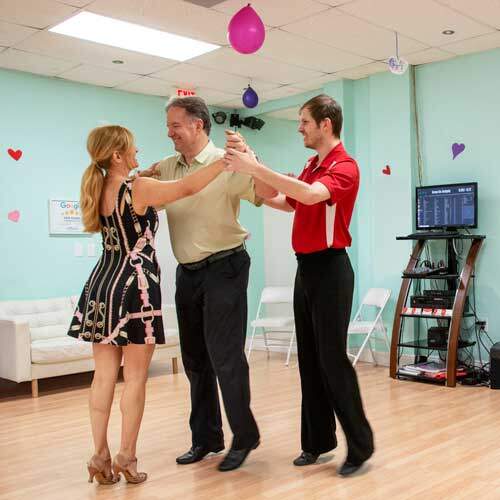 FREE Trial Dance Lesson
Do you want to learn how to Dance?
Trying something new is usually challenging – and learning to dance doubly so!
Maybe you have been away from dancing for a while; maybe you would like to try a new studio.  It doesn't matter if you're a new or an experienced dancer, this offer for a free lesson is available to you.
The FREE lesson is 30 minutes. All lessons after that, including private, group classes, and practice parties are 40 minutes. Please note that all lessons are by appointment only.
What Will I Learn During This FREE Lesson?
Your free trial lesson can be for any level: Beginner, Intermediate, or Novice. You may come solo or with a partner. We'll show you the basics of your chosen style, or if you're an experienced dancer, introduce you to something new and exciting.
We want you to feel confident with the Studio and our Teaching Staff before you pay out any of your hard-earned dollars. So we've put together this Free Lesson program so you can visit, get the feel of the Studio, meet us, and generally get the idea of what learning to dance is all about.
What to Wear?
Our custom-created Studio is fully air-conditioned, but you'll probably get hot, so layers are good. We suggest comfortable clothing that you can move around in.
As to footwear, the top of the "wishlist" is leather-soled dance shoes, but many new dancers don't have them yet.
Ladies, any comfortable shoes, but avoid platform soles (no flexibility) as well as plastic soles (they slide on the polished wood floors).
In any case, even sneakers will be okay for your introductory lesson, and then you can decide which way you'd like to go.
Questions?
We are happy to answer any questions that you may have relating to this free trial lesson.
You may contact us via our chat or by sending us a message here below. Please feel free to browse our FAQs here