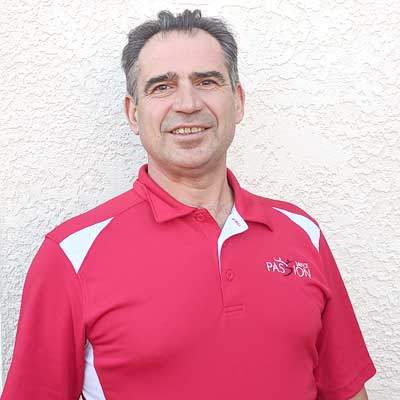 Ivan Grigorov
Founder
Dance Instructor
This Bulgarian descendant has made his dancing career a priority. His technical education could not compete with his love for dance and a desire to share and teach his passion for dance to students of all ages. Ivan began dancing as a youth in Bulgaria to overcome shyness. It worked! After moving to the U.S. and becoming an American citizen he gave up a technical career to become a highly rated dance instructor and studio manager in the Tampa Bay Area. During his 35 years of dance he has very successfully competed worldwide both in the pro/am and pro divisions and has performed locally.
Some of his accolades include:
Top Guest Getter, 2011
Top Teacher Award – Fred Astaire World Dance Competition, Puerto Rico, 2014
Most Lessons Taught in Tampa Bay Area, 2014
First Place Professional Smooth Division, 2015
Today, Ivan is the owner of Dance Passion Studio in Saint Petersburg. Being proud of his dance journey and accomplishments, Mr. Grigorov encourages his staff to always strive for excellence while sharing their joy and knowledge of dancing.

Sarah Johnston
Marketing Director
Dance Instructor
Sarah Johnston was born in Indiana, but raised in Bradenton, Florida.  Sarah graduated from the University of Florida in May of 2015 with a Bachelor of Music in Music Education and a Minor in Theatre.
She discovered her passion for music and theatre at a young age, but the love of dance came much later after finding a salsa dance club in college. Sarah soon began to teach salsa to her peers, and discovered ballroom soon after.  Sarah's belief that dance can change and enrich lives is the passion that fuels her dedication to teach dance to others. Her goal in dance is to pass on as much knowledge and love for the arts as possible, and help people to gain confidence both on and off the dance floor.

Carlos Mateu
Dance Director
Dance Instructor
Carlos Mateu was born and raised in Havana, Cuba, where he began dancing Afro Cuban and Salsa on the streets of his hometown at the age of eleven. By age 13, Carlos was traveling and performing internationally with a respected Quinceanera dance troupe. "If you are Cuban," Carlos has been known to say, "There are three things you know about yourself. You can dance, you can sing and you can play baseball." After mistakenly walking in on a dance competition in a hotel, Carlos knew dance would be his career.
Carlos began teaching ballroom dance in 2011 and moved to the Tampa Bay Area in 2014. He has worked for both Arthur Murray and Fred Astaire franchises. 
2015 DWTS Tampa Bay People's Choice Routine Winner
2016 Top Male Instructor
2017 Regional Fred Astaire Closed Rhythm and Smooth Champion
Finalist in many Florida Dancesport Competitions
He is an energetic instructor that loves to spread the joy and passion that he has for dance. Carlos teaches both social dancing and competitive Dancesport. He loves seeing his students become the dancers they always dreamed of being. Realist that he is, Carlos knows dreams need help from practice, technique and the watchful eye of a supportive instructor. 
"My dream," Carlos says, "is to be the type of dancer…the type of man…who inspires others to achieve their goals no matter what obstacles are present."

Bryan Kulak
Social Media Director
Dance Instructor
A Saint Petersburg, Florida local, was always known for putting on little dance performances for his friends and family. In his adult life he rediscovered this passion when, on a whim, he took a some dance classes in college. He has performed on stage a couple times with Comotion Dance Theater. He also was in a few plays with Saint Petersburg College. Dance has even saved Bryan's life on multiple occasions when things have gotten hard. Using dance as a major stress relief and way to express himself in ways that words never could. Eventually, he found a home away from home in places that offer both line dancing and partner dancing.
As an instructor, Bryan is very in-tune with what his students want and need. He makes sure each person feels valued and cared for as they embark on the new adventure of dance. His playful nature and gentle energy leave people smiling and laughing as they feel the stress melt away. He hopes to offer others a fun relaxing way to express themselves. That way everyone can find exactly what they need to get out of dance!
Our Mission
1. Wait to Practice
It will surprise you, but after your first private dance lesson, don't practice. Why? It's very simple. You don't have yet the knowledge or the muscle memory of the proper dance technique. It's very frustrating for you and your teacher after that to break all of these "bad habits". Even the best Ballroom Dance Teacher can't teach you in one lesson. When you start "practicing" by yourself you don't have any feedback from the Pro. So you definitely will do something wrong and the more you practice the more bad muscle memory will create.
So Wait to Practice!
Wait to Practice
Book Your Next Lesson
2. Book your next lesson close as possible
It is very, very important to keep your first couple lessons close as possible. In this case you will remember more and retain more. Your teacher will teach you new material and you will have a chance to learn more steps/technique. It is that proven that when you start something new, after one week of not taking a lesson, you will probably remember only 50% of what you learned. After two weeks maybe only 10%. The best case is to try to have a private lesson, group class or practice party every day, if your schedule allows. In the worst case scenario every other day. Make the effort and you will enjoy it a lot more later.
3. Write down
It is proven what you write down is what you learn, you can remember more. Going from short term memory to long term memory sometimes is a long process. You can help yourself by writing down or drawing what you learned in your first ballroom dance lesson. Learning how to ballroom dance is like everything else, you need to memorize. It doesn't matter if you write it down in english, chinese or spanish. Write down the way how you feel it in your own words, the sooner you write down the better. Next time before you have a dance lesson read what you wrote. That's how you can call back your memory fast.
Write it Down
Healthy Food
4. Live Like a Dancer
Dancers take care of their bodies, because are body are instruments. Make sure to drink plenty of water try and eat as healthy of a balanced meal as possible. That means no Fast Food! In addition to the diet, making sure you get plenty of sleep to recover as you learn to dance. Also, to speed up recovery, try to cut down on those bad habit that are unhealthy. Smoking, excessive drinking and soda is not good for your body.
5. Find the beat of any song
Listen to different music and try to find the beat. If you find the beat, you can dance with the beat. So next time you're driving turn on the radio and "Find the Beat". Try different music, styles and tempo. It does not matter if is cha-cha, waltz, foxtrot or Viennese waltz. Find the Beat. Finding the beat will definitely make you a better dancer. To help we also made an Online Radio! Here you can see the style of dance, name of the song and Beats per minute.
To access the Dance Passion Radio click Here.
Find the Beat
Stand Up
6. Stand Up
Whatever you do, stand up nice and tall. Improving your posture will definitely make you look good and dance good. If your job is to stay behind a computer, try this simple exercise. Sit on the edge of the chair while trying to keep your back straight. When you do that your posture already starts to improve.
7. Attend the Group classes and the Practice parties
Don't wait, jump in the water. Join the fun of group environment. Finding more people that share the same passion as you. Dance, laugh, have fun and enjoy together. Even after the most stressful day, dance will change and make you better. Two left feet? No problem, everyone starts from somewhere. In a group class or practice party you will find the support from not only the dance instructors, but advanced students as well.
Attend Group
Watch Youtube
8. Watch Youtube
Find the best dance couple/competition on Youtube and watch it. You can find thousand of thousand of hours of great dancing. Look for the pro/professional dance, for example: Waltz dance pro competition or use the words, championship/scholarship like: "foxtrot championship."
Keep in mind that there are two major different styles. American style and International Style. Adding one of these words will greatly improve your search. Also the world of Ballroom dance is changing so fast, so it is good idea to add 2017 or 2018. So in general searches like this one will find the best result: "american foxtrot championship pro 2018"
9. Buy Dance Shoes
If you really enjoy dancing, invest in dance shoes. Find the local dance store, ask a lot a questions to your teacher or the sales person. The best dance shoes are the ones that you don't feel while you wear them. Don't buy the super expensive ones or the dirt cheaper one. Usually you can find dance shoes with very good quality ina price range of $40 to $70. The biggest difference between regular shoes and dance shoes is the dancing shoes have extra arch support. They are designed to protect your feet.
Ballroom Shoes
Share Experience
10. Share your positive experience
When you share your dance experience, you will let your friends know how great this Dance Studio is. The more people that find out about it, the more clients the studio will have. The more clients that we have, the more dance partners you will have. And the Dance Studio will be able to keep their prices low. Also if you want to be part of something successful, help your Ballroom Dance studio to be successful. You will be a part of something big and exciting. And you want to be with your friends on the dance floor right? So the more you share, the more chance you have to be with your friends while you dance.